Learn Thai Massage in Chiang Mai
This is your chance to learn Thai massage in Chiang Mai at our Ban Sabai Village Resort & Spa. Whether you are a beginner or a professional we will be able to introduce you to all the techniques of Thai massage.
Learn Spa Treatments in Chiang Mai
Have you ever wanted to learn spa treatments? Not only can you learn Thai massage but we also offer classes in many of the spa therapies and treatments offered at the Ban Sabai Village Resort & Spa, Chiang Mai.
Here at Ban Sabai Village we provide private and individual Thai Massage and also other Spa Treatment classes. These classes are interesting either for beginners or for professional therapists who wish to learn new techniques and widen their horizon.
Ban Sabai Village classes are ideal for those staying at the resort and include a healthy breakfast, lunch and dinner.  You will also be offered some SPA treatments for you to relax and rejuvenate yourself after a hard working day.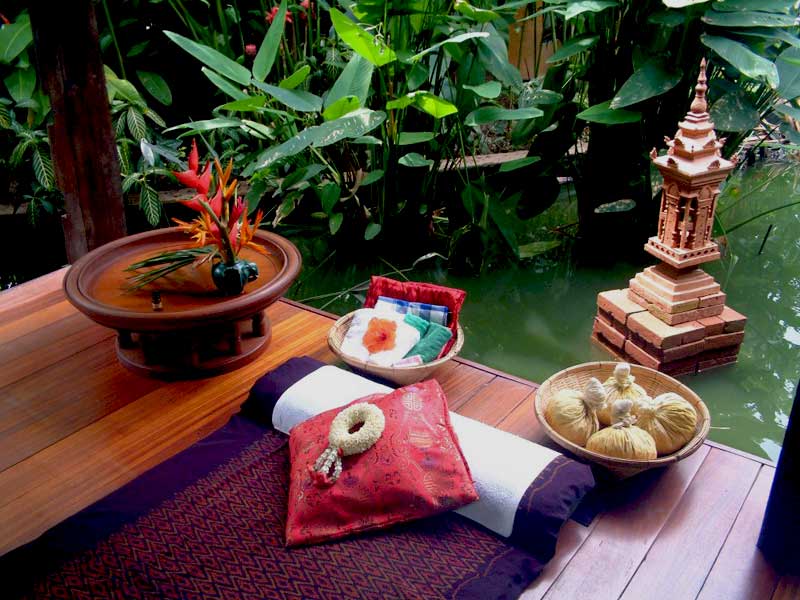 Learn Thai Massage
What will you learn?
Learn to reduce muscle tension and spasms
The applied pressing technique utilized in Thai massage pinpoints areas of built-up muscular tension. When you learn Thai massage you will discover what areas to target to release tension. You will discover the principles of Chinese Medicine which targets trapped nerves. it is highly beneficial in alleviating muscle spasms. Acupressure techniques and principles are used to target key energy points in the body, which correspond to the wider anatomy.
Learn to mobilize the joints
The use of yoga-style manipulation releases tension in the joints, adding mobility and enhancing the range of movement. Learn Thai massage techniques to effectively help increase joint mobility and range of movement. This is particularly noticeable after a series of treatments. A reduction in joint pain and an increase in suppleness and enhanced flexibility can be gained from Thai massage therapy.
Improve blood circulation
Learn Thai massage by combining touch, muscular and skeletal manipulation, and acupressure. This holistic approach dramatically assists the circulation of blood around the whole body.
Learn to balance and increase energy in the body
Thai massage works along the energy meridians of the body. In Chinese medicine it is believed that by physically stimulating the specific areas of the meridians, you can help to shift areas of stagnant energy.  This assists a more healthy flow of energy (known as Qi). When you learn Thai massage you will work to manipulate these meridians until you feel that the energy is sufficiently released. After this you will begin the stretching element of the massage.
Treat Sciatica, Headaches & Neck Pain
Learn to use acupressure, joint manipulation and release of energy meridian flows to release tension, ease nerve irritation, and alleviate pain. Thai massage combines a multitude of techniques to target underlying dysfunctions in the body. These cause pain which can be alleviated in a holistic and highly effective manner.
Learn to reduce stress
In spite of it's rigorous and more dynamic – and at times uncomfortable – technique, Thai massage has been found to markedly reduce stress, and enhance a sense of overall wellbeing.
As with any expert massage, the release of joint and muscular tension leads to the benefit of an increased sense of wellbeing. However the acuppressure techniques and facets employed in Thai massage have additional benefits.  Our Thai massage classes will show you how to release nerve tension, free energy flow and release emotional tension held within the body. The end result is a heightened sense of wellbeing and optimum relaxation.
Thai Massage Classes
Duration: 30 hours over 5 days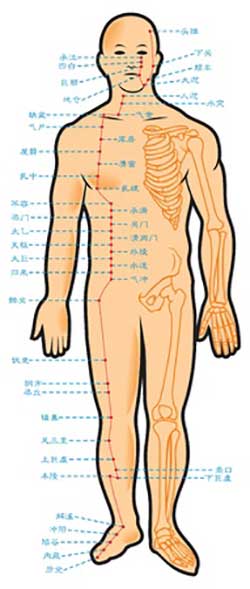 Learn Spa Treatments
We offer a selection of classes that will help you to learn spa treatments that are offered at our resort.
These classes will be of interest to enthusiasts and professionals.
Learn Thai Herbal Compress Massage
The combination of the heat, herbs and massage has the following effects;
Reduces tension through heat and aromatic properties of the herbs
Deep relaxation of muscle and nerve fibers (helps relieve chronic pain arising from overuse injuries)
Softens and nourishes the skin (many herbs are nourishing, exfoliating and restorative)
Eases respiration through the use of aromatic herbal vapors
Improves the circulation as the massage and heat dilates the blood vessels enabling them to work more efficiently
Aids the elimination of toxins and waste products through increased lymphatic circulation and detoxification provided by heat, herbs and massage
Restores the body's vital energy flow (through the stimulation of the Sen Lines)
You will find that you will be able to source most of the necessary ingredients to create your own compresses. This is a favourite class for many who want to learn spa treatments.
Learn Thai Herbal Compress Massage

Duration: 6 hours over 1 days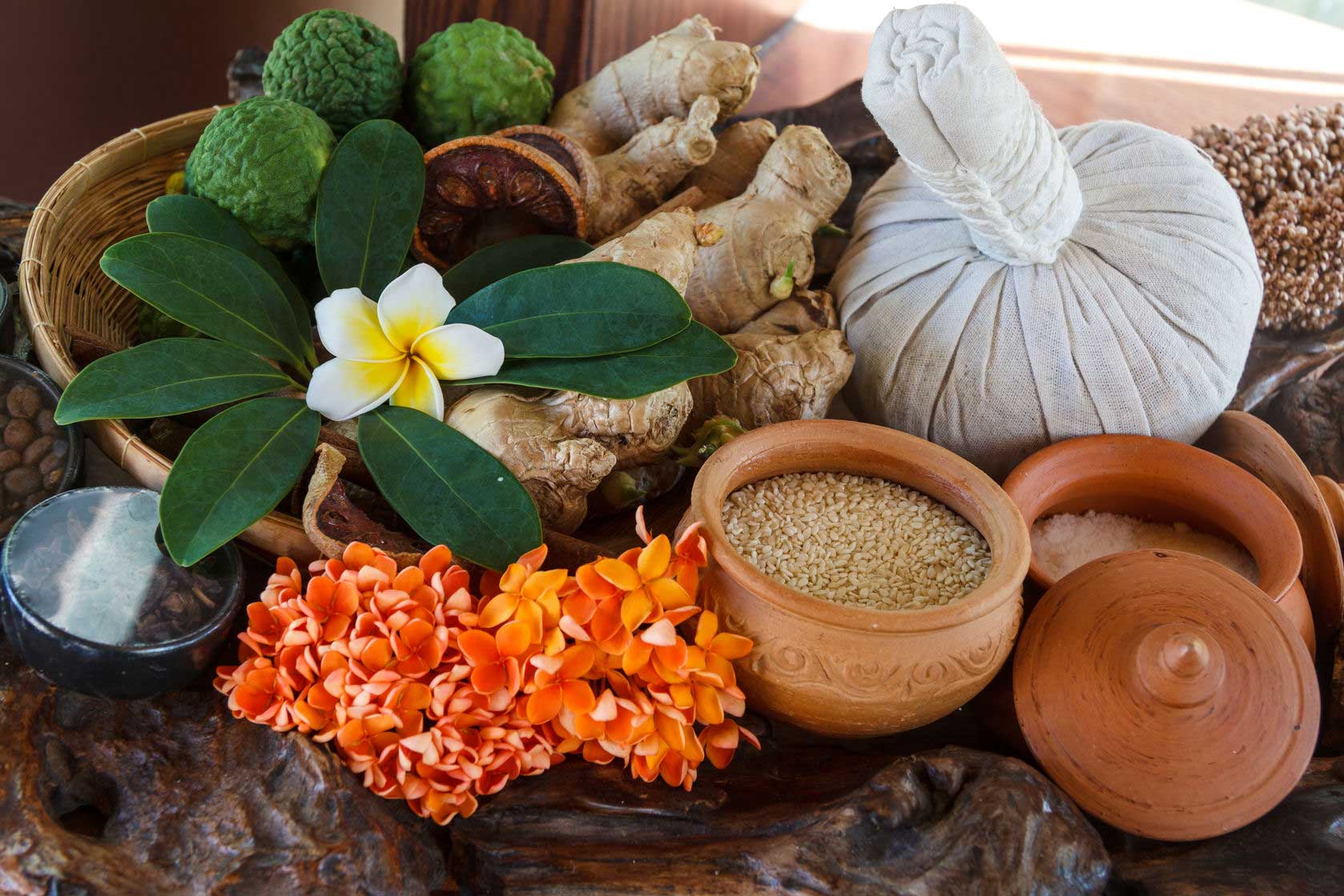 Learn Hot Stone Massage
Learn spa treatments with our hot stone massage class.
This is a natural therapy in which warmed stones are positioned on parts of the client's body.
To maximize the therapeutic benefit the stones used are typically river rocks or other very smooth-surfaced stones made of basalt.
These stones are heated in sanitizing water before use. The high iron content in basalt helps the stones retain heat during the massage.
Hot stone massages are beneficial on both physical and psychological levels.
Pregnant women and people with high blood pressure are advised to avoid this type of therapy.
Learn Hot Stone Massage

Duration: 18 hours over 3 days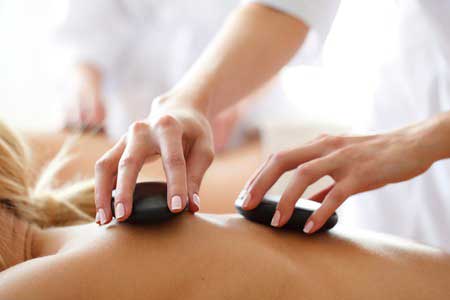 Learn Thai Herbal Facial Massage
Learn spa treatments with our Thai Herbal Facial Massage class.
Thai facial massage uses gentle manipulation of the connective tissues and muscles of the face, neck, shoulders and scalp. This releases stress that has built up in the tissues, muscles and joints of the head, face, neck and shoulders.
This massage helps to release toxins, stress and tension.
It induces deep relaxation and a sense of well-being.
Smoother, firmer skin is achieved by minimizing fine lines, releasing toxins and impurities, normalizing moisture balance and maximizing your skin's natural radiance.
Learn Facial Massage
Duration: 12 hours over 2 days – or 20 hours over 3 days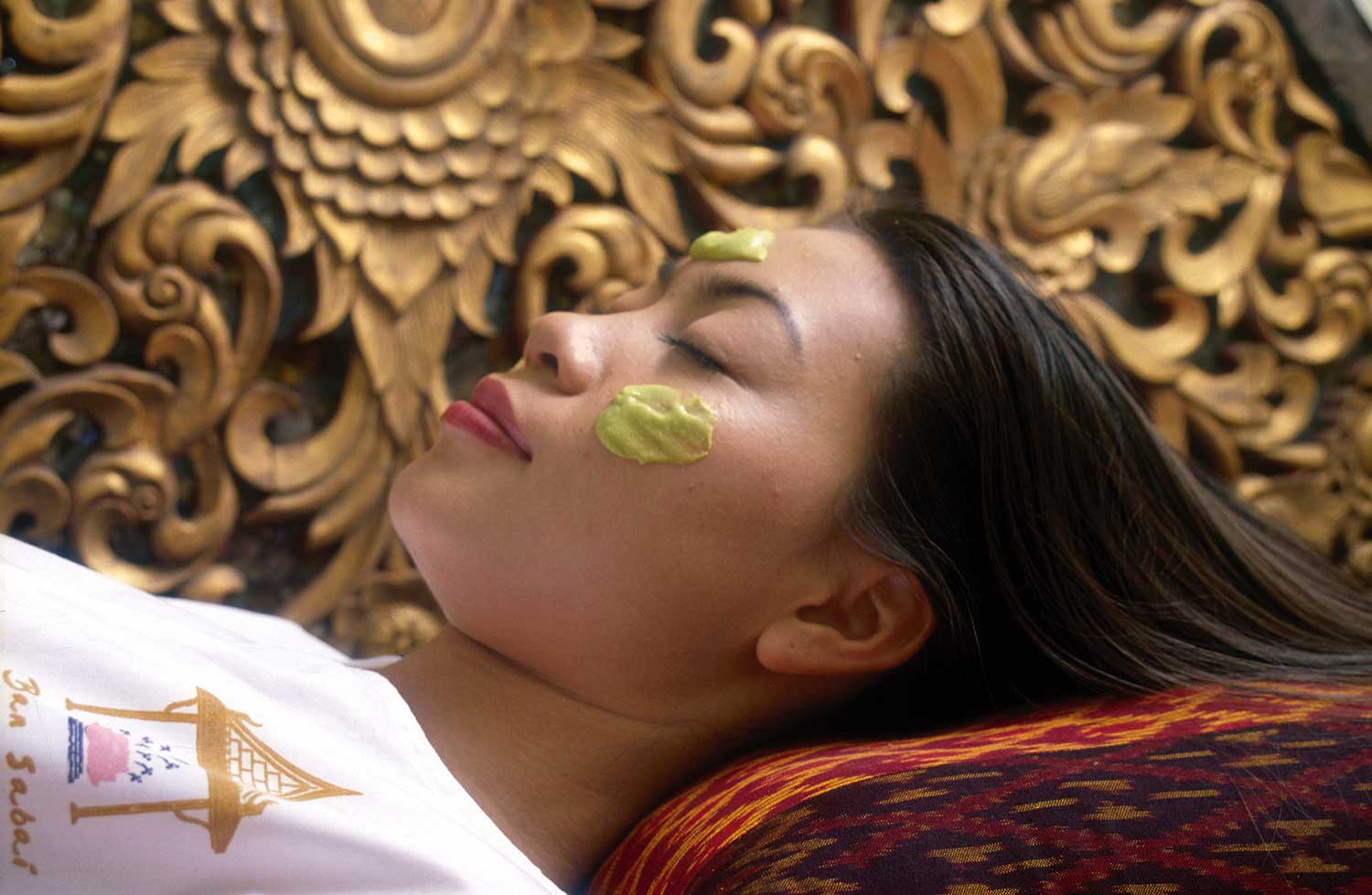 Learn Foot Reflexology
Everybody loves a good foot rub. But did you know foot massage dates back to ancient Egypt and China? Placement of pressure is based on a system of zones and reflex areas that correspond to other parts of the body.
Also called "zone therapy," this mixture of healing art and science is based on the premise that an energy channel encompassing 12 vital organs exists from our feet to the tops of our heads. Applying pressure with your hands, you will learn to unblock that channel to restore proper health and organ function.
Reflexology has become an increasingly popular alternative therapy due in part to the current holistic medicine trend. Today, over 20 countries across the globe support reflexology associations. If you are going to learn spa treatments then Reflexology should be included.
The Benefits of Foot Reflexology
Think about how much stress your feet go through each day. Reflexologists believe that overall health begins in your feet and travels up. The benefits of foot massage are endless. Although there are no "hard facts" to prove what a foot massage can really do, practitioners and patients alike claim that reflexology can:
Cure colds/minor ailments
Prevent/cure diseases
Increase energy
Relieve stress, pain, and anxiety
Improve blood and lymph circulation
Prevent injury
Relieve pain from MS and chemotherapy
Stimulate activity of internal organs
Successfully treat liver dysfunction, constipation, IBS, chronic headaches, and skin allergies
Relieve pressure on legs and feet in pregnant women
The benefits aren't purely physical. A good foot massage can also improve your mental and emotional state. Most of those who seek out a reflexologist are looking for relaxation and stress relief. With less stress in your life, your chance of heart disease drops considerably.
Learn Foot Reflexology

Duration: 20 hours over 3 days – or 30 hours over 5 days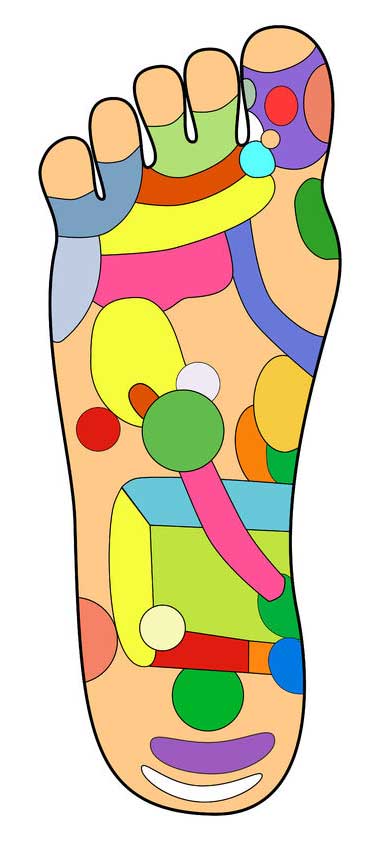 Learn Aroma Oil Therapy
Body massage with aroma oils have many healing benefits. These types of aroma oils or essential oils collected from various kinds of fruits, flowers, seeds and leaves of essential plants. There are more than 400 Essential Oils available, but only 40 common essential oils are widely used in aromatherapy.
Many Aromatherapists believe aromatherapy can boost one's well being. Relieve stress, reduce headache and tension and improve one's body and mind. In aromatherapy, different types of essential oils are mixed with a carrier like sweet almond, grape-seed oil and apricot kernel.
Aromatherapy massage is an alternative therapy. It combines with natural therapeutic properties of aroma oils. Aromatherapy massage has powerful physical, emotional as well as mental affects. It is a relaxing and rejuvenating experience.
Aromatherapy massage affects a wide range of health conditions. It can improve the nervous system, lymphatic function, the immune system, the muscular system and circulation.
Learn Aroma Oil Therapy

Duration: 20 hours over 3 days – or 30 hours over 5 days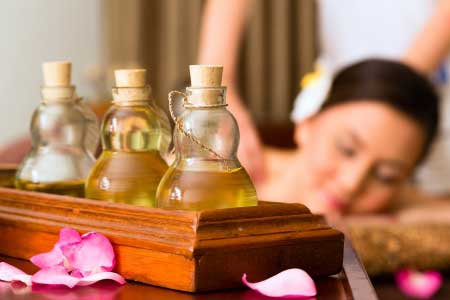 Learn Pregnancy Massage Therapies
Whether it is a woman's first pregnancy or she has already had children, prenatal and postnatal massage therapy can be helpful for pregnant women. Massage therapy helps women through pregnancy before the baby comes by relieving the body of stress and knotted muscles. After the pregnancy, as the body is reverting back to its original form, there are a lot of changes that it goes through.
Here are some benefits of massage therapy during pregnancy:
 Reduces pain – Pregnancy can really affect your sleep position, resulting in countless uncomfortable nights and therefore a severe lack of sleep. This can be difficult for the woman as it can cause stress and therefore disruption in the pregnancy. Through massaging, the body can become more relaxed and relieved of stress.
 Improved circulation – A better circulation of blood and oxygen in the body means a healthier pregnancy. Furthermore massage therapy is very important for improved circulation which gets rid of the toxins and provides nourishment to the baby. Moreover, an improved circulation leads to a reduction in swelling of joints which is a major source of discomfort for moms-to-be.
Reduces anxiety and depression – A lot of women go through spells of anxiety and depression during pregnancy.  This can become more enhanced after pregnancy. So it is sensible to deal with this issue beforehand. Massage therapy helps with production of dopamine, reducing the effects of anxiety and depression.
Better healing process – Postnatal massage therapy helps women transition from their pregnant bodies to their original body state with more ease. Body massage is important for women to heal their bodies while getting rid of pain.
Improved breast-feeding – Postnatal massages help new mothers with improved production of breast milk and relieve muscle tension in the neck and shoulders as they feed their infants. It also relaxes chest muscles, resulting in decreased body pain.
Surgical recovery – Women who go through C-section to give birth have a long healing process. Furthermore postnatal massage therapy helps the body get rid of the stress and pain of surgical delivery.
Learn Pregnancy Massage Therapies

Duration: 18 hours over 3 days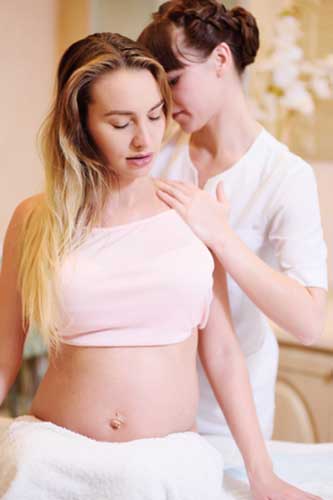 Please use the form to receive further information about these classes.