Ban Sabai is owned by Chitra Klanprayoon and her Swiss husband Matthias E. Froelich.
Chitra (nicknamed Aew), studied at Chiang Mai University Mass Communication department. She has over 30 years' experience in resorts and restaurants, PR and guest relations.  For a few years she was working for movie productions here in Thailand and worked on 'Year of the dragon', 'Air America'  and 'Good morning Vietnam'. She is health conscious with a motto 'eat for living'. For many years she has been a vegetarian.
Matthias arrived in Thailand in 1991 bringing with him his own hotel management experience. He graduated from the Swiss Hotel Management School in Lucerne.  He had the opportunity in 1991 to join Amari Hotel & Resorts in Samui, experienced the busy metropolis of Bangkok for 2 year and then returned back to the paradise island of Koh Samui as opening General Manager of Poppies Samui. In 1996 Chitra and Matthias founded their own company to run real estate development and started the Ban Sabai Spa for Wellbeing at Big Buddha.
Since then Matthias has designed and built several villas; Ban Sabai Big Buddha retreat & spa at Koh Samui, Ban Sabai Village Resort & Spa in Chiang Mai and Ban Sabai Sunset Beach Resort & Spa, Koh Samui.
Matthias is a keen horticulturist – "Gardening is so much fun here – the tropical plant variety and beauty is simply so exciting"
Visit ban Sabai Resorts and you will recognize the attention to detail by Chitra and Matthias, the smile and friendliness of Thai hospitality all underlined by Swiss quality.
Ban Sabai is a truly small world within our world to unwind and relax just to feel Sabai.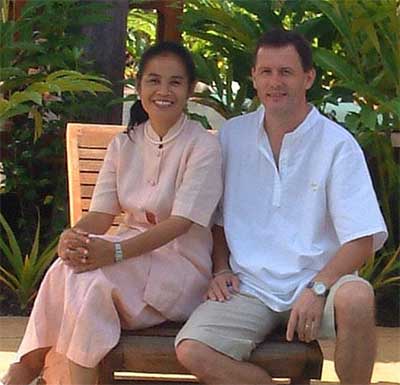 Chitra Klanprayoon and Matthias E. Froelich