Our Spa Resort Therapist Team
Welcome to the Ban Sabai spa resort Chiang in Mai Northern Thailand. All of our therapists are well experienced and certified by Chiang Mai's Health Department. They are expertly qualified to provide you with holistic services to bolster your sense of wellbeing while pampering you with the perfect Chiang Mai spa package.
Choose the right Chiang Mai spa package
Do you have just an hour or two to spare? Maybe you can stay for a day or a week. Perhaps you are planning a Chiang Mai wellness retreat. Whatever your time constraints Ban Sabai has the Chiang Mai spa package for you. We will help you to re-charge, re-vitalize and re-energize your body and mind. The perfect combination is to stay with us in one of our luxury rooms, apartments or villas.
We have a comprehensive range of pampering or therapeutic spa services available. We offer traditional Thai massages with herbal steam bath, facials, body-masques, body scrubs, detoxification wraps, herbal compress, aromatherapy massages and baths.
Ban Sabai's spa and wellness facilities here in Chiang Mai include garden treatment pavilions, treatment rooms, a peaceful and refreshing swimming pool, herbal steam rooms and saunas, a gym and a relaxation and meditation room.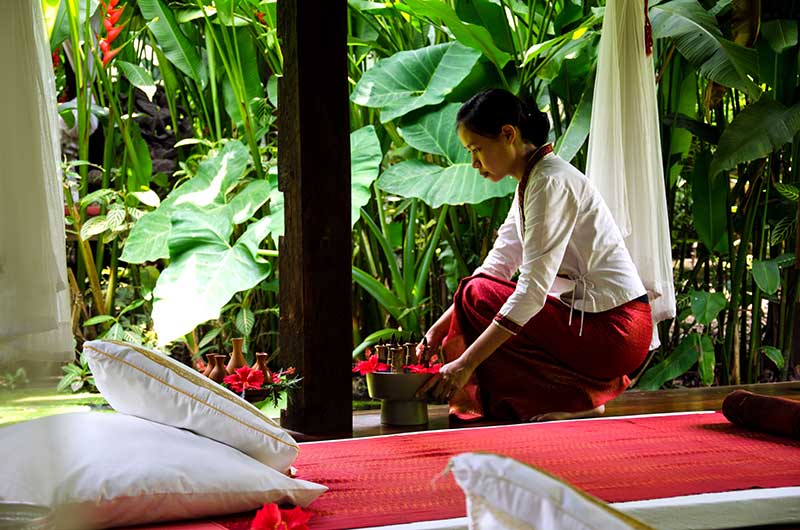 Choosing a Chiang Mai Spa Package
The Ban Sabai Village Chiang Mai resort and spa offers 3 convenient and cost effective packages.
Create your own spa treatment package 'a la carte' or choose from our day spa packages.
Ban Sabai Village is one of the leading Chiang Mai spa resorts so you might consider staying with us for a few days.
Then you will be able to benefit from one of our spa rejuvenation packages.
Staying at a Chiangmai spa resort is the perfect way to relax and get the most from your holiday break.
We look forward to serving you at Ban Sabai Village Chiang Mai resort and spa.